Welcome from Mark Roosa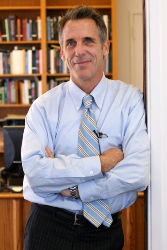 The Pepperdine Libraries provide a global gateway to knowledge, serving the diverse and changing needs of our learning community through personalized service at our campus locations and rich computer-based resources. At the academic heart of our educational environment, our libraries are sanctuaries for study, learning, and research, encouraging discovery, contemplation, social discourse and creative expression.
As the information universe continues to evolve, our goal is to remain responsive to users' needs by providing seamless access to both print and digital resources essential for learning, teaching and research. In pursuit of this goal, we strive to make a positive impact in the lives of our students and faculty so they are equipped to change the world. Join us on this journey of purpose, service and leadership, as we build the library of the future.
Dr. Mark Roosa
Dean of Libraries