New Director of the Genesis Lab Empowers Students and Faculty with Technology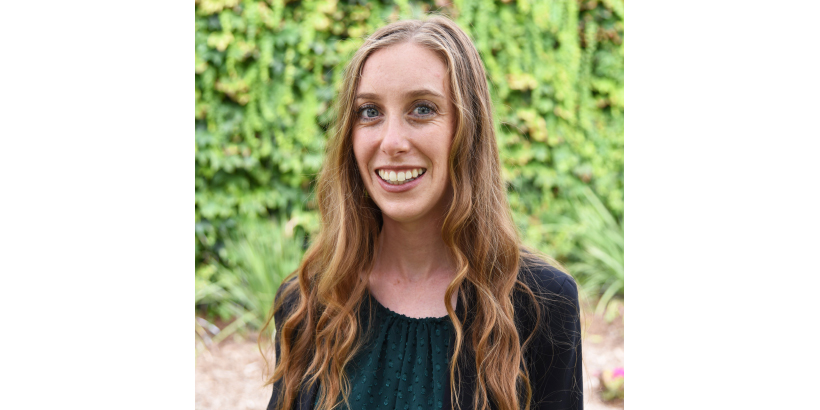 Last summer, Lauren Haberstock – then the Drescher Graduate Campus librarian – was promoted to director of the Genesis Lab makerspace and librarian for emerging technology and digital projects. Since moving offices down the hill to Payson Library, she has been doing a stellar job at the helm of the lab creating engaging experiences for students – no easy task, especially in a year that started off with so much uncertainty.
I recently sat down with Lauren in the Genesis Lab to discuss the various initiatives she has taken on in her new role.
Jeff Bowen: Lauren, thank you for sitting down with me today. First, let's start with the basics. For those unfamiliar with the Genesis Lab, what is it?
Lauren Haberstock: The Genesis Lab is Pepperdine's makerspace, a collaborative work space for making, learning, exploring, and sharing. We have an array of high-tech and low-tech resources available for creative minds to use, including 3D printers and modeling software, virtual reality headsets, a Cricut vinyl cutter, and 360 cameras. The lab was initially supported through a Waves of Innovation grant, but now it's entirely under the umbrella of the Libraries. We're located in Payson Library on the second floor.
JB: So anyone can drop by?
LH: Yes! This semester we're open Monday through Friday, 11 AM until 4 PM. Our primary audience is students, but we encourage faculty and staff members to drop in anytime. And we look forward to the day when members of the public can return to campus. Before COVID, it wasn't uncommon for a visitor to drop by for a tour or even a demonstration.
JB: Speaking of faculty, I understand that you work with a lot of instructors who bring in their classes. What types of classes come into the lab?
LH: We're integrated into all sorts of courses – religion, biology, art, teacher education – you name it. Last semester, one of my most memorable experiences was working with Dr. Lucas to develop an engaging experience for her Principles of Biology course, which is designed for non-science majors. Her students came to the Genesis Lab for one of their lab sessions and used our VR headsets to swim with dolphins, hang out with a pride of lions, and immerse themselves in other environments discussed in their course. We also wanted the students to learn about 3D printing and think through applications and use cases. 3D objects can take longer than you would think to print, so to make sure the students could experience a print from start to finish, I miniaturized a few 3D models of animals, including a frog, a gecko, and a starfish. They were an absolute hit, not to mention extremely cute!
We even went on the road to the West LA campus with our wireless Oculus Quest 1 & 2 VR headsets, an array of 3D printed objects, and Google Cardboards. I presented to doctoral candidates in GSEP's Ed.D Organizational Leadership program about the possibilities and potentials of emerging technologies and makerspaces in teaching and learning environments.
JB: It seems like Dr. Lucas's biology students had quite a memorable experience in the Genesis Lab. Virtually swimming with dolphins sounds awesome! Aside from class visits, what other innovative activities happened last semester?
LH: We especially enjoy doing holiday events. We kicked off the Halloween season with a 3D pumpkin printing event where members of the Pepperdine community could learn how to create their own 3D design and 3D print of a pumpkin. Later in October, we curated a selection of spooky virtual reality experiences where visitors could play cult classics like Five Nights at Freddy's in VR or complete tasks as a friendly ghost in Ghost Giant. As we got closer to Christmas, inspired by the Tree of Light exhibition displayed at the Rijksmuseum in Amsterdam, my team developed a prototype for a hologram projector using wood panels, plexiglass, and a smartphone.
Energized by the University's RISE initiative, our student workers created 3D motivational prints of animals with encouraging quips and handed them out to students during finals season. One version featured a puppy with the saying, "You've got this, dog." Another featured a cat with the quote, "Nothing is im-paws-ible." Later, we hosted a holiday de-stress event where students could take a break from finals preparation and create with Playdough, LEGO bricks, and other crafting materials. They could also hop into a Super Smash Bros. game or dance off some stress in Beat Saber.
JB: Super Smash Bros. is always a good time. That reminds me. The other evening, did I see a group of students playing video games in the Genesis Lab?
LH: That definitely would have been one of Pepperdine's esports teams – they have a vibrant presence here. After hours, the Genesis Lab serves as a practice and competition space for the Valorant, Overwatch, and League of Legends teams. But sorry, Jeff, you'd have to go to the HAWC to watch the Super Smash Bros. team practice.
JB: Drats!
LH: I also enjoyed putting together our Zoom talk with Amelia Winger-Bearskin during Native American Heritage Month. She had a lot to say about creative applications and the ethical implications of virtual reality and artificial intelligence.
JB: I really enjoyed Amelia's presentation! Thank you for bringing her in all the way – virtually – from the University of Florida. You're doing a lot of cool things for the students here at Pepperdine. What is your vision for the Genesis Lab?
LH: Last semester felt like both a homecoming and a reunion. Students, faculty, and staff are finding their way back to the Genesis Lab, or discovering it for the first time, and reconnecting with one another. A driving motivation with the return to campus has been the cultivation of a space with low barriers to entry; whatever it is, we want you to come make it or try it. Moving forward, I want to tap into the creativity and curiosity of our dynamic community and more deeply engage the community in conversations around the applications and use of emerging technologies in teaching, learning, and research. My goal is for the Genesis Lab to be a responsive space that empowers students and faculty with the technology and skills needed to actuate their dreams, goals, and projects.