Pepperdine Libraries Publishes Pat Boone Digital Collection
Pepperdine Libraries is pleased to announce the launch of the Pat Boone Digital Collection. This new collection features more than 75 objects from Pat Boone's personal archive. Pat Boone is the actor, singer, author, and songwriter for whom the Boone Special Collections and University Archives is named. The collection includes setlists, personal correspondence, and photographs with presidents, family members, and fellow performers on stage and in the studio. The Libraries is privileged to share a snapshot of Pat Boone's life and achievements.
Boone's illustrious career began in the 1950s when he rose to fame as a singer, covering songs such as "Ain't That a Shame" by Fats Domino and "Tutti Frutti" by Little Richard, and then starring in movies such as April Love (1957) and Journey to the Center of the Earth (1959). His popularity is evident in one of the earlier photographs in the collection featuring adoring fans greeting Boone and his family as they descend the stairs of an aircraft, having just moved to California from New York.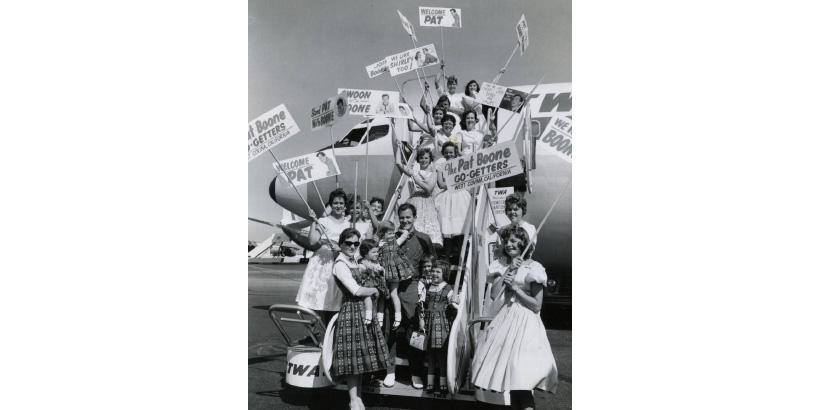 The multifaceted talents of Pat Boone are indisputable. He can sing. More than 25 singles reached the top 20 on the U.S. singles charts. After he transitioned from recording pop to recording gospel music, he was inducted into the Gospel Music Hall of Fame. He can act. Boone is credited with having roles in dozens of productions. And, he can dance. His ability to move on the dance floor is undeniable in one of the photographs in the collection.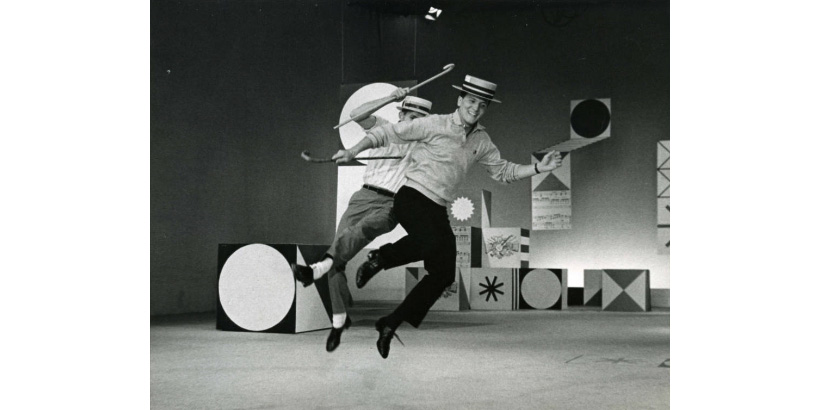 Despite becoming a household name, Boone never let stardom compromise his values. Even at the apex of his career, he maintained an unsullied image, developing a reputation for being a man of faith and a family man. For instance, he was scrupulous when considering roles with on-screen romance to protect the sanctity of his marriage to his wife Shirley. Boone grew up in the Churches of Christ tradition, and he actively supports Churches of Christ-affiliated institutions of higher education. In addition to Special Collections, he was also the benefactor for Pepperdine's Boone Center for the Family. His wholesome image is apparent throughout the digital collection, and his involvement in the church is seen in several photos of him preaching and singing at worship services.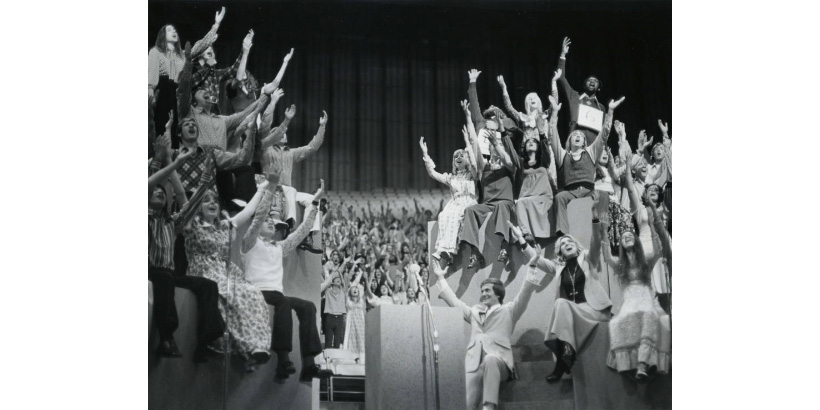 Pepperdine Libraries is honored to archive Pat Boone's amazing life and career for long-term digital preservation. We're pleased to present the collection to the public to encourage discovery and scholarship at the widest possible breadth.



Sources:
Browne, David. "Pat Boone Remembers Little Richard: 'He Knew He Had to Be Different'." Rolling Stone. May 10, 2020
https://www.rollingstone.com/music/music-features/pat-boone-little-richard-997029/
Davis, Paul. Pat Boone. London: HarperCollins, 2001.
Ross Jr., Bobby. "Disfellowshipped decades ago, Pat Boone insists he 'never left' Church of Christ." The Christian Chronicle. September 24, 2017.
https://christianchronicle.org/excommunicated-decades-ago-pat-boone-insists-never-left-church-christ/