Pepperdine Libraries Promotes Two and Appoints Two New Librarians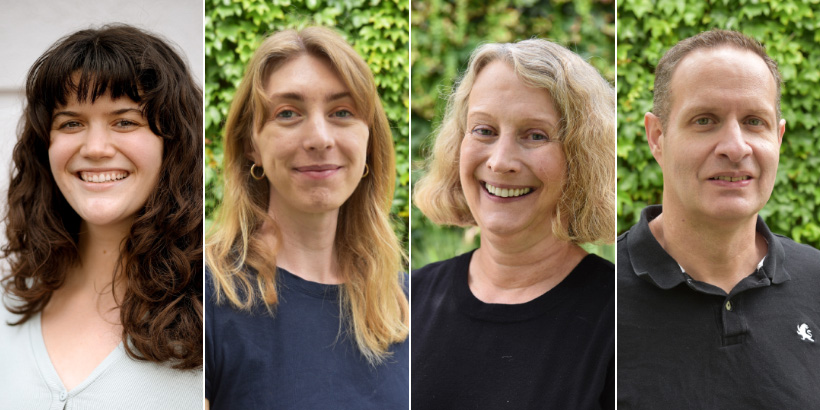 FOR IMMEDIATE RELEASE
MALIBU, California – Pepperdine Libraries is pleased to announce that two new librarians are joining the staff and two current librarians have been promoted to its leadership team. All four will office at Payson Library, the flagship undergraduate library located at Pepperdine's Malibu campus.
Anastasia Armendariz will begin her role as librarian for special collections and the Malibu historical collection at Pepperdine Libraries in July 2022. Armendariz holds a BA and an MA in English from Georgetown University. She recently completed her MLIS at the University of Maryland, where she also served as a graduate assistant at the university's library and completed an apprenticeship with its special collections and university archives department.
Bailey Berry joined Pepperdine Libraries as librarian for digital conversion, publishing, and curation in March 2022. Berry received a BA in art history from Gordon College and graduated from University of California, Los Angeles with an MLIS. Previously, she worked for the Los Angeles Public Library. During her graduate studies, she interned at the National Museum of the American Indian, where she gained experience working with digital collections and oral history projects.
Sally Bryant was promoted to associate university librarian for public services and instruction at Pepperdine Libraries in March 2022. Prior to her promotion, Bryant served as head of access services. She was also the subject specialist for international studies, film studies, and screenwriting, a role she'll continue in her new position. She holds a BA in Asian history from Bates College, an MA in international relations from American University, and an MLIS from San Jose State University.
Marc Vinyard was promoted to associate university librarian for graduate campus libraries at Pepperdine Libraries in March 2022. In addition to his new role of guiding the future of graduate library programs, Vinyard will continue to serve as the liaison for business, economics, history, humanities, marketing, and social sciences majors. He holds a BA in comparative international studies from University of Washington Bothell and an MLIS from the University of Washington.
Pepperdine's dean of libraries, Dr. Mark Roosa, expressed his delight in welcoming the new librarians and promoting long-serving ones. "Bailey has already shown she is adept in her role managing digital collections, and I'm looking forward to seeing her and Anastasia's contributions as they work to support learning, teaching, and research at our university. Additionally, Sally and Marc have served students and faculty faithfully for a number of years, and both are ready to take on important, new responsibilities," said Roosa.


About Pepperdine Libraries
Inspired by the University's mission, Pepperdine Libraries serve our learning community by facilitating exploration, discovery, and creativity through personalized service at our campus locations in Southern California and abroad and through rich computer-based resources. Pepperdine students, faculty, and staff have access to more than 1.5 million items via our catalog and 3.1 billion items via interlibrary loan. Our community also has access to more than 120 electronic databases featuring 51,000 journals, more than 530,000 ebooks, and thousands of papers in Digital Commons, our institutional repository for Pepperdine scholarship. Anyone from anywhere in the world doing primary source research can search more than 42,000 items -- including photographs, documents, films, and recordings -- in our Digital Collections. Boone Special Collections and University Archives, located in our flagship Payson Library, provides access to historical primary source artifacts. Payson is also home to the Genesis Lab makerspace, an exhibit gallery, and a multipurpose presentation room displaying a collection of historic surfboards. To stay updated, sign up for email newsletters and follow Pepperdine Libraries on ​Instagram, Twitter, and Facebook.