Baking the Malibu Historical Collection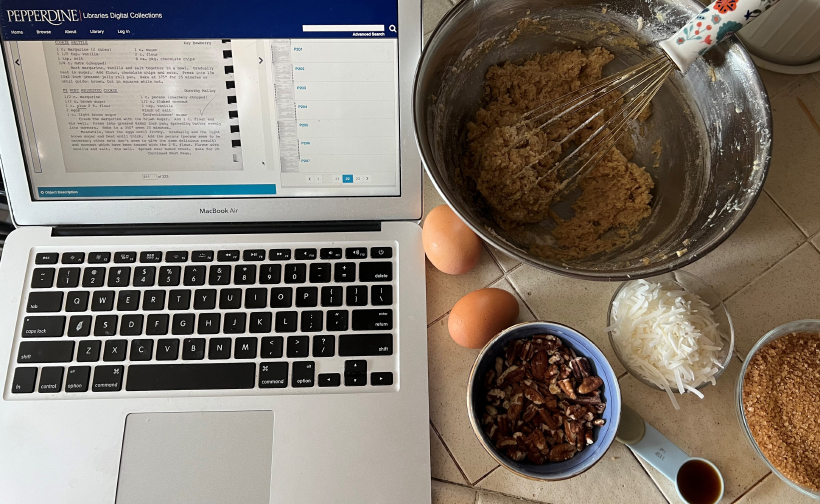 As the librarian for Special Collections and the Malibu Historical Collection, it is my privilege to highlight materials that tell the story of this region. Food is central to this story. A menu from the Sea Lion Inn reveals 1960's Malibu menu prices. Your final bill at that same address of 21150 Pacific Coast Highway, which is now Duke's Malibu, would look a little bit different today. Cookbooks within the Malibu Historical Collection reveal how culinary tastes have shifted over the years. For instance, a cucumber Jell-O mold salad might not makes mouths water these days, but many of the recipes I encountered do still sound delicious. And so in the name of scholarly research, I decided to test out some.
I selected two recipes to try. My loose criteria included something sweet, new to me, fairly simple, and with readily accessible ingredients. The first chosen, a recipe for maple syrup muffins, comes from a 1949 advertising booklet, Milk-Maid Recipes from Adohr. Adohr Farms dairy was founded in 1916 by Rhoda Rindge Adamson ("Adohr" is Rhoda backward) and her husband, Merrit Huntley Adamson. Rhoda's mother, May Knight Rindge (the so-called "Queen of Malibu"), sold her daughter and son-in-law the land on which they would eventually establish their dairy farm. Known for its uniformed deliverers, Adohr was once one of the largest and most respected dairies in California.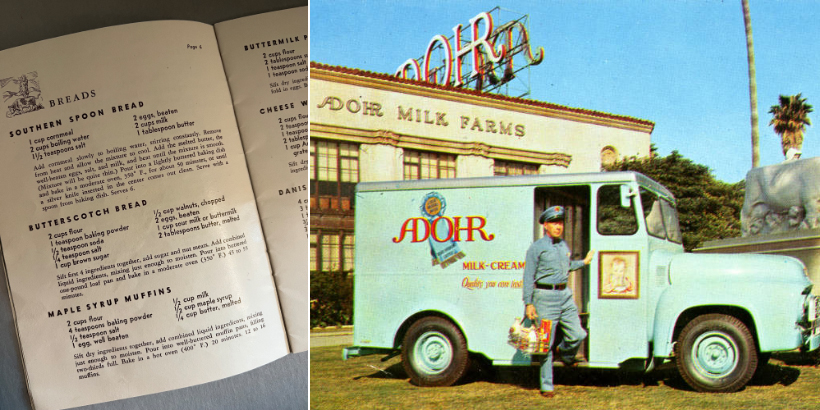 One of my favorite notes in the booklet appears near the end, on page 29. "Cream, butter, cheese, and ice cream are healthful and thrifty concentrations of whole milk or parts of milk." The muffins allowed me to focus on the "concentration" of butter. The Adohr maple syrup muffins turned out quite light in color, texture, and taste. They are not too sweet, and feature a flavor like a hint of vanilla with a twist. Served warm with a little butter or jam and a hot beverage, they are just right for a mid-morning pick-me-up, even without Adohr dairy products.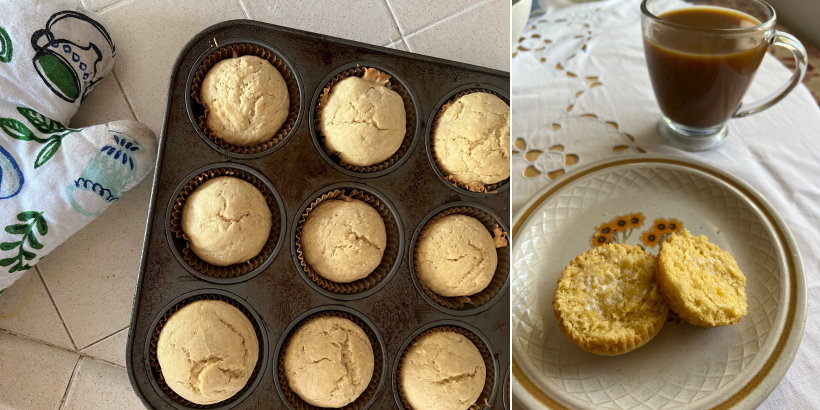 Later that afternoon, I tried out another treat. Pot Pourri: Revisited contains hundreds of recipes compiled by The Women's Guild of the Malibu Presbyterian Church in 1974. The cookbook is a follow-up to the popular volume the Guild members created four years prior. Its ten major sections are sprinkled with aphorisms related to food and life. This copy is well-loved, and the extensive notations and additions throughout its pages continue the participatory origins of the cookbook's production. Splatters and stains throughout solidify this copy's status as a beloved kitchen reference work. However, not every recipe was considered a hit, as proven by the cross-outs and blunt "no" on the recipe for carrots on page 69.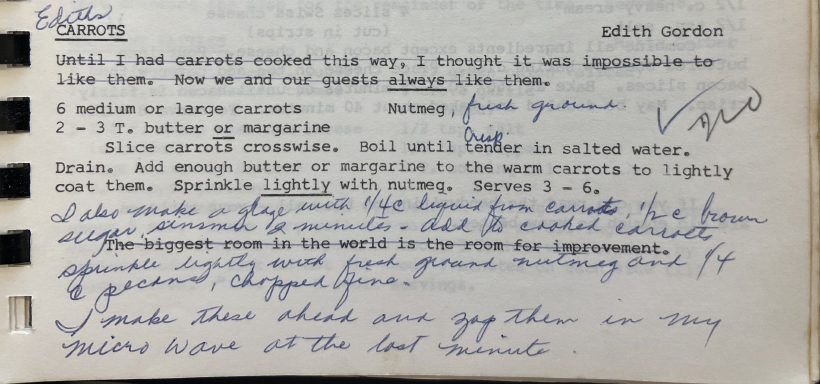 Likely just as the contributor Dorothy Malloy intended, I was hooked by the bold recipe title choice of "My Most Requested Cookie." After checking the contents of my refrigerator and consulting with my colleagues, I used butter rather than margarine in this recipe. (If you intend to use any of the recipes found in our collections, feel empowered to swap out any ingredient you please; culinary history is adaptation and improvisation).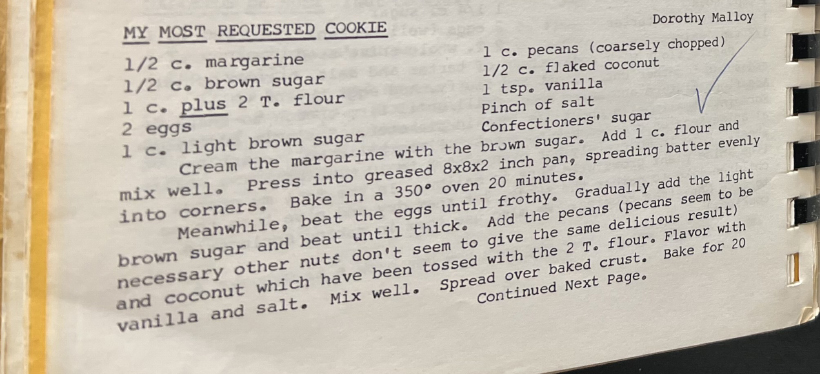 This recipe itself is a pretty clear multi-phase process. I found it helpful to have a set time to prepare the topping while the base toasted in the oven. After letting it cool and then dusting it with powdered sugar, I tried a piece. Make no mistake: Dorothy's recipe earned its title. The bar cookies are like a bite-sized summer version of a pecan pie on shortbread, thanks to the bits of coconut throughout. I know I will make these cookie bars – and refer to the cookery in the Malibu Historical Collection for recipe inspiration – again.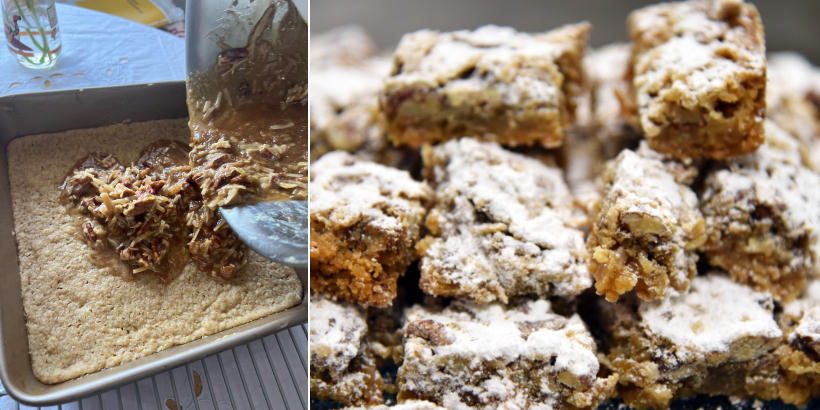 Thanks to our digital collections, I followed both recipes in the same way I do many others today – pulled up on my laptop. Want to try out one of these recipes for yourself? Visit Pepperdine Libraries Digital Collections and get cooking. And if you are on-campus, see the Milk-Maid Recipes from Adohr, Pot Pourri: Revisited, and more food-related pieces from the Malibu Historical Collection in Payson Library. I've set up a "Malibu Stew" display in the window of the rare books storage area by the entrance to the Surfboard Room.


References
Wienberg, Eric Collection of Malibu Matchbooks, Postcards, and Ephemera. Special Collections and University Archives, Pepperdine University, Malibu, CA.