How Malibu Keeps Christ in Christmas

As you make your way along Pacific Coast Highway in December, it is difficult to miss the nativity crèche on the corner of PCH and Webb Way. The crèche has its roots in 1963 when one Malibu resident, Mary Kuepper, decided she wanted to recenter the Christmas season on the birth of Christ. She approached the Malibu Chamber of Commerce and proposed installing a modest display, a Christmas tree and a painted sign reading "Peace on Earth" adorned with a silhouette of Mary and the infant Jesus. Fifty-nine years later, the Malibu "Keep Christ in Christmas" (KCIC) Project display still invites wonder and reflection from that same corner.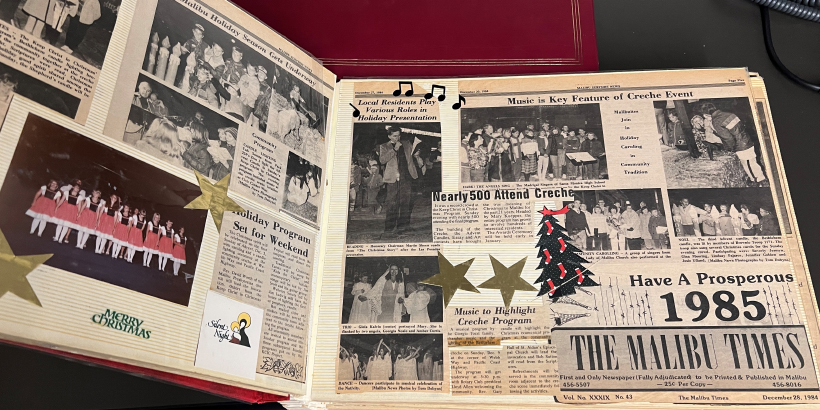 I recently processed two albums documenting part of KCIC's history for the Malibu Historical Collection. Donated by former KCIC president Jackie Sutton, the albums contain press clippings, fliers, photographs, and more, predominantly covering the years 1984 to 2002. I learned even more about KCIC's long-standing role in Malibu during a chat with the organization's outgoing president, Mary Motley. Motley's nine years of leadership provided insights into the KCIC's history and potential future directions. Motley shared fond memories of Kuepper with me:
"Mary was quite the character. She had bright red hair. She sold encyclopedias. She would never say no, and you just did what she told you to do. She was one of those people where you loved her, but she just would not let go."
In 1964, Kuepper received approval from the Malibu Chamber of Commerce for a larger Christmastime display, an entire nativity scene. Kueper already had the support of Our Lady of Malibu Catholic Church, where she was a parishioner. Moved by the ecumenical reforms made during the Second Vatican Council, Kuepper sought other Christians to help fund the rental of a crèche. She reached out to other Malibu churches – Shepherd by the Sea Lutheran, Malibu United Methodist, and Malibu Presbyterian – which agreed to support the project.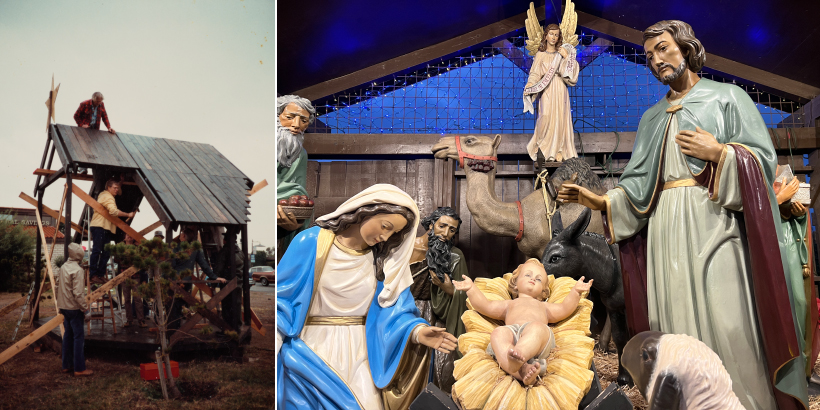 The following year, Kuepper secured the funds to purchase a crèche with 15 statues crafted in a Tyrolean village in Italy in 1938. These include the holy family, an angel, shepherds, sheep, a donkey, a camel, and the three Magi. Each statue was carved from a solid block of larch wood and then hand-colored, and they were installed in time for the First Sunday of Advent in 1965. To support this ambitious project, Kuepper branched out beyond the four churches already involved with the project, receiving financial and volunteer support from Malibu residents and local organizations like the Malibu Optimists Club and 4-H.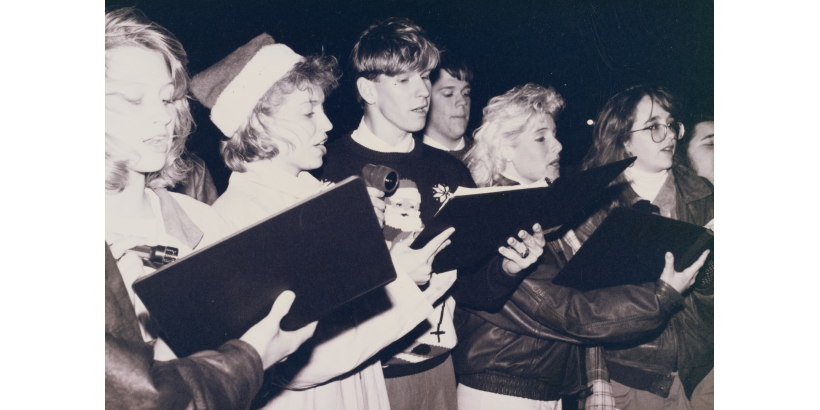 Apart from a brief hiatus for repairs in 2020, when a banner replaced the statues, these figures have remained a fixture of the Christmas season in Malibu. Local churches alternate presiding over Advent Sunday services. Advent celebrations have been brightened over the years with readings by Pierce Brosnan, Ali MacGraw, and Martin Sheen, and they have featured musical performances from Dick Van Dyke to Pepperdine's own carolers. The latter, under the direction of Randy Gill, are pictured above in a 1991 photograph by Diane Baldwin from our Malibu Times Collection.
Motley reflected on ways KCIC's Christmas celebrations have shifted over six decades. While Sunday services and songs still usher in each week of Advent at the crèche, these are now held during the day. As I showed Motley some KCIC photographs from The Malibu Times Collection, she commented "It's cool, when you look at the pictures, that it was held at night because everybody's all bundled up." One of Motley's hopes for the future of KCIC is a return to at least one nighttime Advent celebration.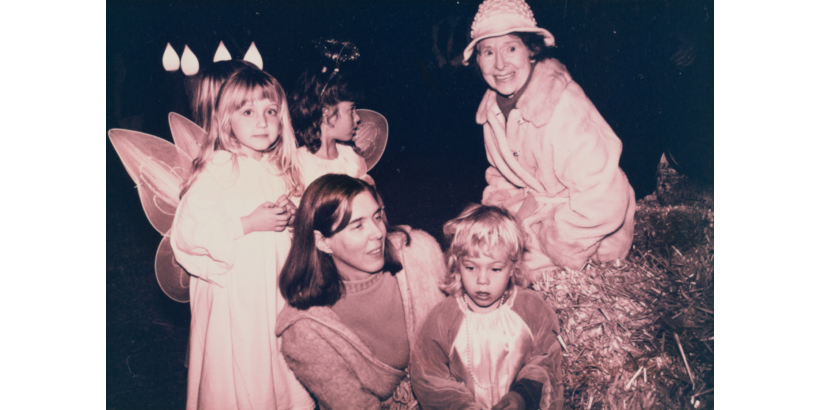 In the aftermath of the Woolsey Fire in 2017, KCIC organizers noted that many more locals were interested in the KCIC display. In an extension of the ecumenical spirit of its founder, KCIC invited the Jewish community to add a menorah adjacent to the display at Webb Way and Pacific Coast Highway.
Motley's plans to restore a formerly beloved component of KCIC, the Las Posadas procession, have been delayed over the past few years. Las Posadas is a traditional Mexican procession marking the journey of Mary and Joseph from Nazareth to Bethlehem. Malibu's version, seen below in a photo from our Malibu Times Collection captured by Diane Baldwin in 1994, incorporated live animals and volunteers. That is, as Motley recalls, until one year when "the donkey got loose and ran across [Pacific] Coast Highway."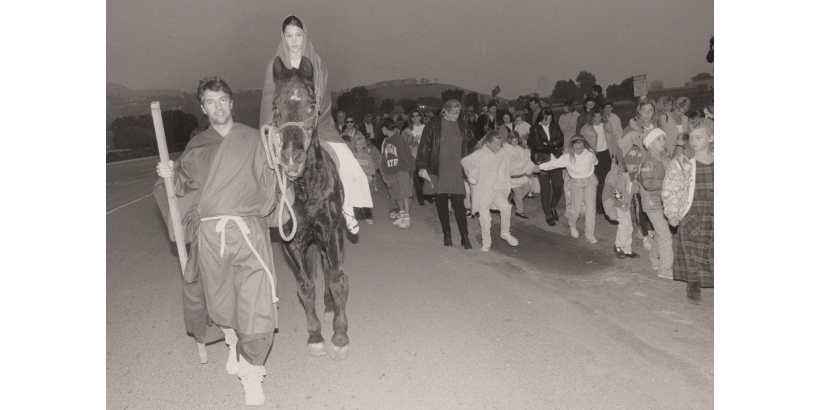 Motley deeply cares about the KCIC programs, and she explained that the art and essay contest for school-aged children was among her favorites. Pepperdine writing Professor Theresa Flynn was a long-time organizer of the contest. On hiatus since 2020 – but expected to return in 2023 – the contest is aligned with the chosen KCIC theme of the year. A 1973 card (below, left) shares some of those early themes.
During the off-season, the KCIC crèche and statues were initially kept in the basement storage room of Serra Retreat. After the fire of September 1970, all pieces were recovered intact by local first responders, clergy members, and KCIC volunteers, including Franklin Crosby (pictured below, right). Crèche storage then moved to Roberts Ranch in Solstice Canyon. In 1982, the Dayton Canyon Fire devastated Roberts Ranch. Fortunately, the statues were once again found unharmed. In a continued survival story, the timing of KCIC's decision to lower and then retile the roof of the crèche in 2017 ensured the KCIC centerpiece endured the Woolsey Fire.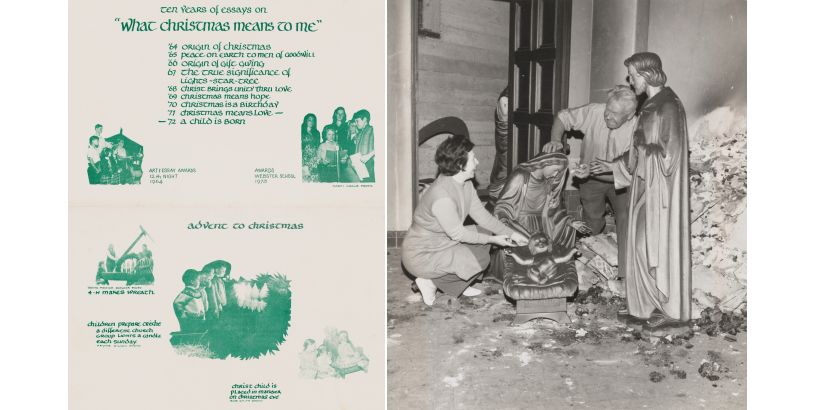 The KCIC display and programs have also outlasted more targeted threats. Over the years, figures have been stolen from the nativity scene. Many have been recovered – a lamb from atop a mailbox, the infant Jesus from a garage. As documented in one of the KCIC scrapbooks, after the angel was taken in 1987, the community rallied together and fundraised for its replacement. Over the years, KCIC leadership has implemented various security measures, from fencing to alarm systems, in order to protect the crèche. Referring to the public push for secularizing public spaces and other Southern California cities that no longer host nativity scenes, Motley explained, with a mixture of sadness and pride, "We're the only city that has this. And next year is 60 years."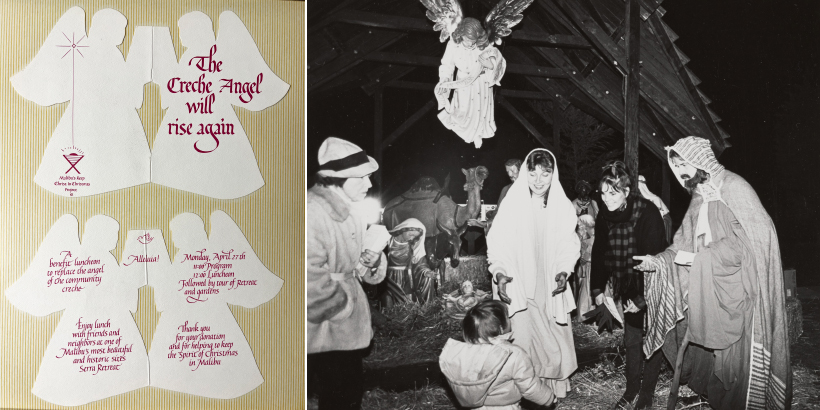 2022 is the final year of Motley's presidency, and she did not name a succeeding president or board members to me during our discussion. As is fitting with a project as community-oriented and fueled as KCIC, she shared that her leadership of KCIC has been possible through the help of a supportive team and collaborative partners. Motley hopes future Advent seasons continue to embrace that collaborative spirit, with "lots and lots of people and hands" participating, representing a diversity of Malibu community groups. In her words, "Make it valuable for everybody."
The labor of care Motley and KCIC volunteers past and present invest? Motley's hope for the future of KCIC? All are grounded in what she, like founder Mary Kuepper, believes is the true reason for this season. To Motley, the enduring value of KCIC is that "It keeps the kids knowing that this is what the holidays are all about: the birth. And this is what we celebrate. It's the time that we get together and can really pay homage [to] the real meaning of Christmas."