Alumna Melissa Pichette ('96) Takes Joy in Finding the Hard-to-Find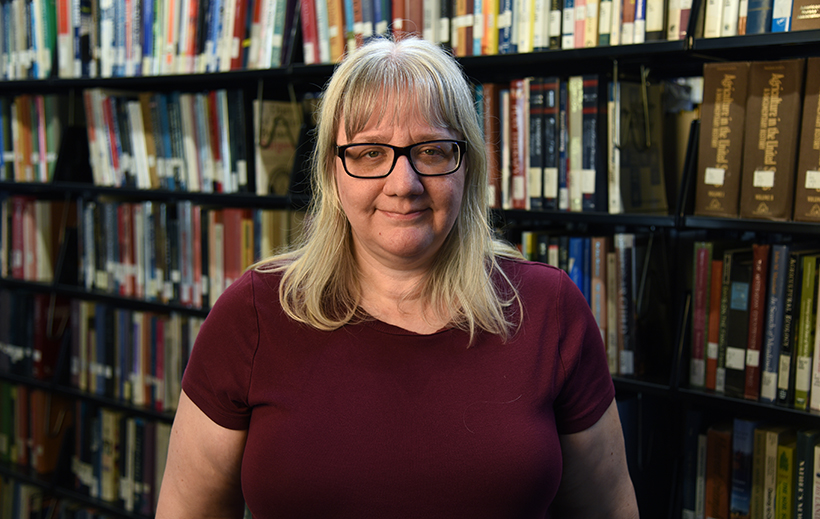 If you've been to Payson Library, you know there's a corridor of offices behind the circulation desk. Home to our research and instruction team, there you'll often see librarians meeting with students and faculty to assist them with finding resources for scholarship. But there is one person you won't see there: Melissa Pichette. Although her work is behind-the-scenes, it's vital to the success of our patrons' research efforts. And she's been making a profound impact at Pepperdine Libraries for the better part of three decades.
Melissa offices in the technical services space behind the cold storage vaults on the first floor of Payson. Out of view from the public and entered through a nondescript door adjacent to the stacks, this space is home to a myriad of library team members who are instrumental in the library running smoothly. This week, I sat down with Melissa there to talk about her work as interlibrary loan supervisor.
Jeff Bowen: Let's start with the basics. I understand you graduated from Pepperdine and then immediately started working for the Libraries?
Melissa Pichette: Correct! After I earned my BA in liberal arts from Seaver College in 1996, I joined Pepperdine as an employee – and I've been with the Libraries ever since.
JB: What does the interlibrary loan process entail, and how do students/faculty/staff start the process?
MP: Interlibrary loan is the process of borrowing books and journal articles that we don't own. Once I receive a request from a patron for an item – a book loan, book chapter, or journal article – my job is to find a library that has the sought-after item, and then ask that library to loan it to us, by either mailing a physical item or scanning and emailing it to us. This process also happens in reverse: we loan books and articles to other libraries when requested from us.
Submitting requests is easy. You can put in a request straight from your interlibrary loan account, or you can find an item in the library catalog (or on a database), and then click on the "request" button, which will automatically notify me. You'll receive an email when the item arrives. Important to note: we can't borrow ebooks and we don't borrow textbooks for students.
JB: How long does it take to receive materials?
MP: Articles and book chapters take 1-2 business days, and patrons get a link and a password to access the article online. Book loans typically take 3-5 days, but sometimes as long as 2 weeks depending on from where we borrow the item.
JB: What's your favorite part of the job?
MP: My favorite part of the job is researching and then locating the hardest-to-find items. I feel a lot of joy completing these difficult requests. Regardless of whether it's an easy or challenging request, I feel happy when there's another satisfied student or faculty member.
JB: With being on the job for 27 years, I'm sure you've had some memorable interlibrary loan requests. What are some that have stood out?
MP: We borrow items from – and loan to – libraries all over the globe. Difficult requests are usually faculty requests and involve contacting a library's special collections department. These kinds of requests often take weeks or even months to fill, such as when I obtained a scan of a manuscript from Switzerland or the time I received Vietnamese articles from France.
Many of the challenging requests require purchasing an item in coordination with the acquisitions department. I often look at requests and ask librarians if they want to purchase the book for the library collection instead of borrowing it. Other memorable purchases included microfilm copies of a Chinese periodical and even an LP record that I transferred into an MP3 file.
JB: How many requests are you fielding in a given week during busy times – and which part of the year are you busiest?
MP: During our busiest times – late spring through early summer and again in late fall – I'm fielding anywhere from 200 to 300 requests per week.
JB: Wow that is a lot! I appreciate you taking the time to chat with me. Before I go, can you tell me where our patrons can find out more information about interlibrary loans?
MP: To get more information on interlibrary loan, go to infoguides.pepperdine.edu/interlibraryloan, or patrons can email me at libill@pepperdine.edu. Perhaps the easiest way to get to your interlibrary loan account is by navigating to the Pepperdine Libraries homepage and clicking "Interlibrary Loan Requests" under "Popular Links" in the top menu.