Collection Maintenance Supervisor David Randall Makes Finding Missing Books Seem Easy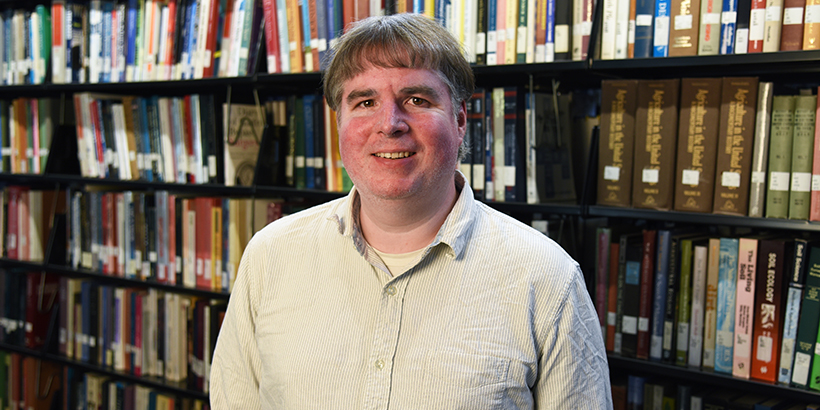 If you've wandered the stacks of a library, you've probably wondered how one keeps track of so many books. Payson Library alone has thousands of physical objects on its shelves—including books, magazines, DVDs, and CDs. And it's here at our flagship library that collection maintenance supervisor David Randall makes sure everything is where it is supposed to be. I recently sat down with David to find out how he makes what seems like the impossible, possible.
Jeff Bowen: Thanks for taking the time to chat with me, David. I understand this year marks quite a milestone for you?
David Randall: Yes, this year is my 10th anniversary working at Pepperdine Libraries on the Technical Services team.
JB: Well done! What did you do before coming to Pepperdine?
DR: I worked at the Library of Congress doing inventory quality assurance. Prior to that, most of my jobs involved books or similar media, from Blockbuster Video and independently-owned book and comic book stores to the Reinsch Library at Marymount University, Virginia, where I earned my undergraduate degree. I also completed a semester-long internship in the American Folklife Center at the Library of Congress during college, which jump-started my career.
JB: What does your typical day look like at Pepperdine?
DR: I work at both Payson Library and our Calabasas Campus library. At Payson, with the help of student workers, I process incoming acquisitions before we shelve the items. To do this, I make sure our local holdings records are linked with the correct bibliographic catalog record. I then add barcodes, call number labels, security strips, and book cover dust jackets (for hardcovers). Finally, I affix books with a "Property of Pepperdine Libraries" stamp, denoting which campus the book belongs. A typical day at our Calabasas Library tends to be more physically active with reorganizing books. There, I find ways to make space for items in our compact shelving storage areas. Working in either location, I like to take time every day to make sure the stacks are presentable, with books in proper call number order and ample spacing so they're not too tightly packed.
JB: What are some of the challenges of your position?
DR: A common challenge anyone working in a library faces is trying to track down missing books, and I am known as someone who is especially adept at finding missing books around the library. I don't like to believe a book is lost or stolen. More often than not, it is simply misplaced, usually on a shelf close to where it belongs, but sometimes in a completely different section of the library. This happens if somebody misreads a call number while putting a book back, or simply leaves books on a study table after using them.
JB: What's your favorite part of the job?
DR: My favorite part of working for an academic library is seeing all of the new and old books coming by my desk covering a wide range of subjects. I am particularly amazed by all of the art and history book donations we have received during my time here. I received my BA in English, so it is also enjoyable to see what new, interesting works of fiction or plays are published every year.
JB: What are your favorite books?
DR: Here are five of my favorite books, all available in our collection: