Music Class Learns About Sacred Songs from 450-Year-Old Choir Book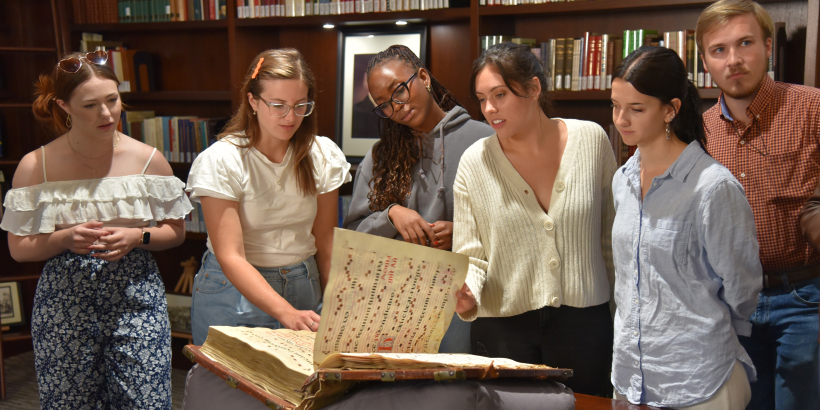 One of the prized rare books in our Boone Special Collections and Archives is an antiphonal, or choir book, dating from 1572. Made for a Franciscan convent in Seville, this massive, exuberantly decorated antiphonal was used by its nuns for more than two hundred years. The book is material evidence of the importance of music in women's monastic life, a topic of emerging scholarly interest.
At the beginning of this semester, professor of music Ryan Board brought students enrolled in his History of Sacred Music (MUS 467) course to view the book and even do an impromptu performance for passers-by. Dr. Board started the class by explaining to his students what some of the musical notations meant and how they are different from – or similar to – modern Western music notation.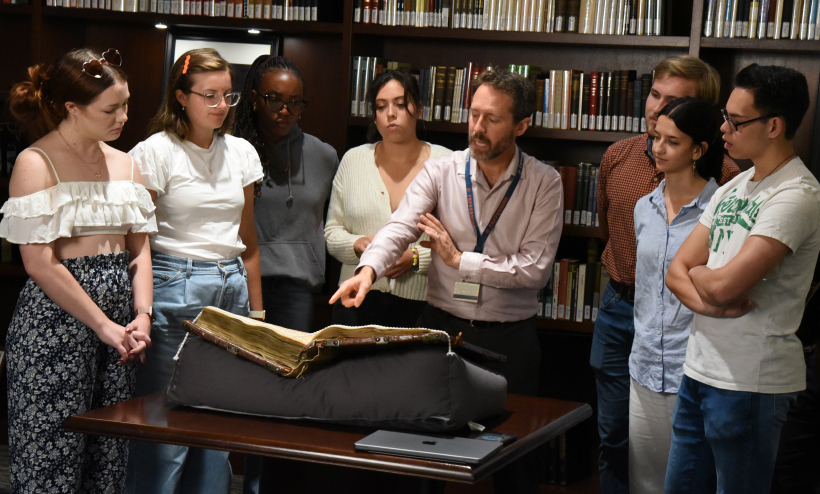 For those present, which included a handful of librarians and faculty members, it was fascinating to see the discovery process unfolding in real time. Dr. Board's expertise in sacred music gave him plenty to talk about as he turned the pages, and it was inspiring to see the students' delighted reactions as they engaged with the manuscript. One memorable point from his lesson was that he could tell which songs were most popular based on the amount of wax on a page. Pages with more wax – which was accidentally spilled by nuns holding candles over the book – meant that the songs on those pages were sung more often.
Toward the end of the lesson, Dr. Board turned to one song, and after going through each line in Latin one by one, the students performed the piece beautifully. The historically inspired design of the Rushford Center for Research on Churches of Christ and the Stone-Campbell Restoration Movement provided the perfect backdrop for onlookers to draw closer to God through music.
Faculty members: Are you interested in teaching a class or doing research using a rare book from our collections? Contact a member of the Special Collections team to learn how!