Catherine Schuman Has Been Assisting Students at the Circulation Desk for More than a Decade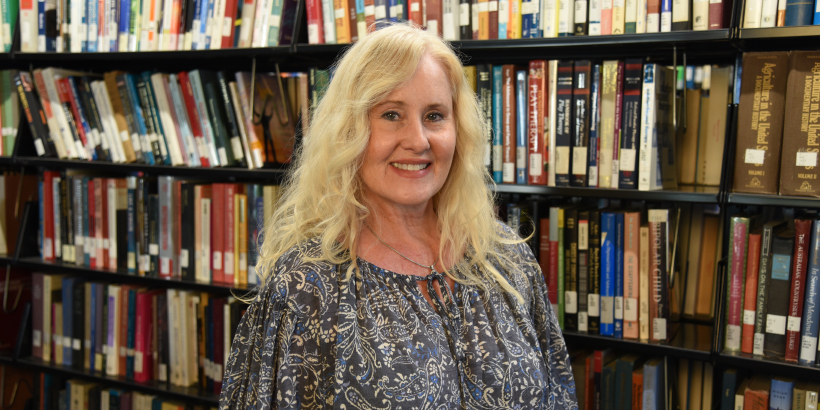 This month's featured staff member is often the first person you see at Payson Library when you enter the main entrance on the first floor. Daytime circulation supervisor Catherine Schuman has been working diligently behind the circulation desk for more than 12 years. Universally beloved by students, Cathie is one of the most helpful individuals you'll ever meet.
Jeff Bowen: Thanks for chatting with me, Cathie. Let's start with the basics. What does your typical day look like at Payson?
Cathie Schuman: During the school year, I wake up early every day to make sure things are in order for the students. After I arrive at 7 AM to open the library, I focus on fulfilling book requests and organizing books to be sent to or from the graduate campuses. Throughout the day, I assist students with locating books in our collection. I also help students check out reserve books for their classes and any equipment they need to borrow.
JB: Tell me more about your work with reserves.
CS: I'm constantly communicating with faculty, finding out which books and DVDs they'd like to place on reserve. Reserve materials are often required reading for class, so it's a huge benefit for students if they don't want to purchase the books. Students are limited to two hours of in-library use at a time so that more students can utilize the resources. And while I handle hard copy reserves, faculty can contact a librarian to obtain electronic reserves for their classes, including scans of book chapters and articles.
JB: Here at Pepperdine, we place tremendous value on high touch services to our community. You seem to model that. How do you do it?
CS: I get extreme satisfaction providing our patrons, especially students, with the best customer service possible. From assisting with finding books and using the printers to answering wayfinding questions, I feel they see me as helpful and friendly. I am also always happy to answer questions from parents, and drawing on my experience with my daughter who recently graduated from Pepperdine, I have given loads of advice on how to save money on textbooks.
JB: You have a lot of empathy for the students and their families – it's no wonder I am always hearing great things about you from them. I end my interview with a fun question: what is the most interesting question you've ever fielded?
CS: The most memorable is: "Can we roast marshmallows on the outside fire pits?"