Authentic Accounts: American Literature in Special Collections
Nowhere is the diversity and the passion of America better represented than in its literature. From the earliest writers who drafted memoirs and official government records to the rise of the 19th-century novel to the culturally-prominent poetry of the 20th century, the writing of America is multifaceted in subject and perspective, analogous to its people and nature. Featured in Pepperdine's Special Collections and Archives is a set of rare American literature selections. These selections have been compiled into the newly published American Literature in Special Collections Guide. Many of these works are first or early editions and are authentic to their time of composition and publication.
First and early editions are significant because they offer the most authentic version of a text as it was intended, written, and verified for publication by the author. As time passes from the first publication of a text, its content, language, and other features may shift. For instance, anthologies sometimes condense stories or poetry to fit certain page limits or to conform to certain intents for the larger set. Many of the items featured in this collection are original and thus authentic in both text and appearance.
The guide is comprised of six categories:
17th & 18th Century American Literature
19th Century American Literature
20th Century American Literature
21st Century American Literature
American Poetry
Children's American Literature
Some highlights from the page are as follows: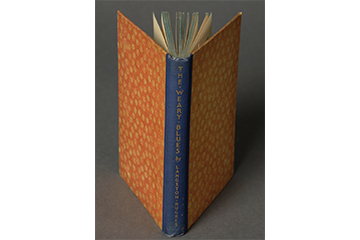 The Weary Blues by Langston Hughes; First Edition, Signed & Published 1926
The Weary Blues is part of the guide's poetry section and was published in 1926 when Hughes' was just 24 years old. This poetry book by Langston Hughes embodies the rhythm and style of the Harlem Renaissance and illustrates the characters and experiences of African American communities through lyrical, narrative-like language. This Special Collections copy contains an inscription from the author to the book's previous owner, American scholar Marion Thompson Wright. It reads, "To Marion Thompson, these poems of Harlem, the sea, and elsewhere, — Sincerely, Langston Hughes," dated February 7, 1926 in Washington.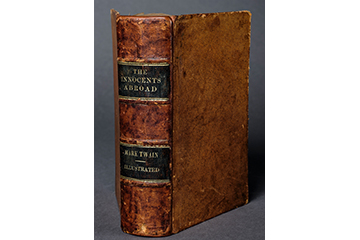 The Innocents Abroad by Mark Twain; First Edition, Published 1869
Listed under the 19th Century tab is The Innocents Abroad by Mark Twain, a European travel book wherein Twain effectively utilizes humor and satire. The Innocents Abroad was Twain's best-selling book during his lifetime.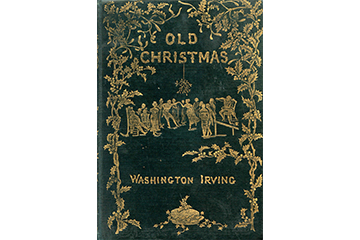 Old Christmas by Washington Irving; First Edition, Published 1876
Another selection from the 19th Century section, this edition of Old Christmas by Washington Irving has several physical distinctions, including a green cloth case binding and a monochrome, wood-engraved illustrated title page.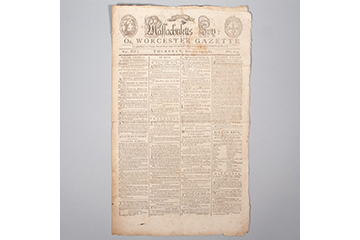 October 14th, 1784 edition of the "Massachusetts Spy" or the "Worcester Gazette," a political New England newspaper
All throughout colonial America in the late 18th century, Massachusetts Spy was the most popular and most highly circulating newspaper. Founder Isaiah Thomas' support of the Whig party and independence from Britain was evident in the newspaper, prompting resistance and trouble from British authorities. This October edition features a number of written texts and advertisements in addition to a masthead engraved by Paul Revere. More information on this new Special Collections acquisition can be found in this library blog post.
These featured works are just a peek into the variety and insight this collection has to offer. Many more pieces comprise this set, including works from writers like Sylvia Plath, F. Scott Fitzgerald, Robert Frost, Nathaniel Hawthorne, David Henry Thoreau, and an official handbook from the Boy Scouts of America, just to name a few. Check out the full guide for more authentic American perspectives.