Margaret Martin Brock, "Mrs. California Republican"
In honor of the 4th of July, we wanted to highlight a truly patriotic woman, Mrs. Margaret Martin Brock. Involved with politics for most of her life, Brock preferred to celebrate the birth of our nation over her own birthday of July 9.
Born to an affluent family in California, Margaret Martin Brock devoted her life to fundraising and philanthropy. Dubbed "Mrs. California Republican" by President Ronald Reagan, Brock was highly involved in the Republican Party from 1948 onward. She attributes this involvement partially to her father, who helped raise funds for the presidential election of Herbert Hoover. Margaret Brock was a delegate or alternate to 10 national Republican conventions and a co-founder of the Republican Eagles. At the time of her death she was the only woman to ever receive an Eagle of the Year award. Brock co-chaired California campaigns for the White Houses of Bush and Reagan, as well as Pete Wilson's U.S. senator and California gubernatorial races.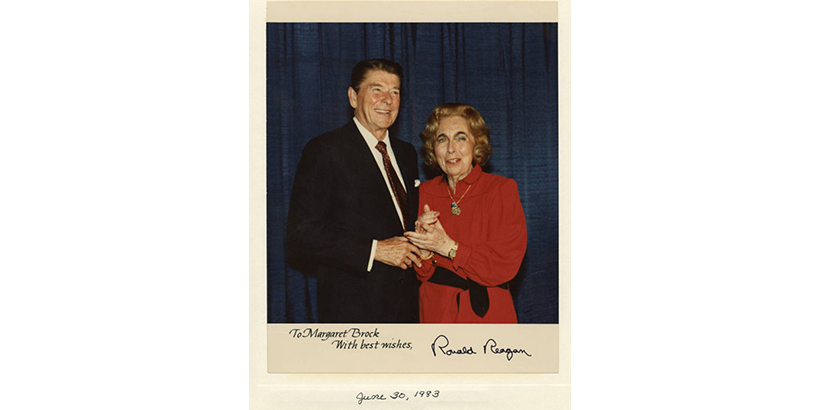 Margaret Brock felt strongly about assisting young people in their educational pursuits, and much of her philanthropy was directed at colleges and college students. Brock's relationship with Pepperdine began when she attended the "Birth of a College Dinner" in 1970, where the college's Malibu campus was announced. She provided the funds for the construction of the president's house on campus, securing its name as "Brock House". Brock House was dedicated in 1975 by President Gerald Ford. Brock sat on the Board of Regents for the university for several years, was a member of the University Board and a lifetime member of the Pepperdine Associates. She also co-chaired the university's first official fund-raising campaign, "The Wave of Excellence Campaign". Brock was highly involved with the Pepperdine School of Law, creating the Brock Scholars program, which continues to this day.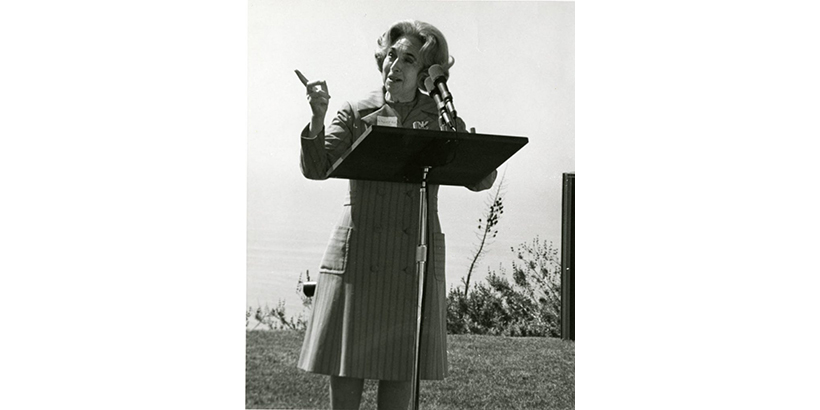 The physical archival collection of the Margaret Martin Brock Papers documents the life of Margaret Brock and her involvement in politics, philanthropy, and education. The collection contains publicity, writings, and newspaper clippings about Brock's interests and philanthropy. It includes Brock's correspondence from 1948-1996, including copies of outgoing letters. It also includes a large amount of materials that focus on Brock's political involvement and her friendship and support of California and national Republican leaders. The collection also includes photographs and photo albums of Brock and various events that she attended. There are also several albums of newspaper clippings. Finally, the collection includes a large amount of Brock's subject files, which she kept on various people, events, and organizations with which she was involved.
The newly launched digital collection of the Margaret Martin Brock papers includes a selection of photographs from Brock's collection, as well as all of her correspondence with Presidents Eisenhower and Nixon, which were digitized by the Introduction to Digital Humanities classes in Fall 2018 and Spring 2020 respectively.