New Acquisitions Celebrate Black Heritage
In celebration of Black History Month, we are pleased to highlight a selection of historic materials that have been recently added to our Special Collections and University Archives. We are committed to filling gaps in our collection and amplifying underrepresented voices by an increased focus on adding materials from communities of color. The materials highlighted below represent the work of important Black artists, writers, and publishers in 20th-century America. We celebrate and honor their achievements, and we look forward to sharing their voices with students in classrooms across several disciplines.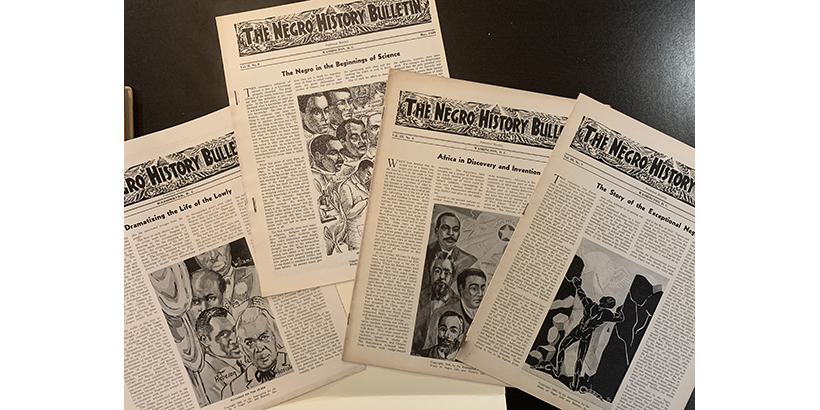 The works of two important African Americans -- artist Lois Mailou Jones (1905-1998) and historian Carter G. Woodson (1875-1950) -- come together in the four issues of The Negro History Bulletin that Pepperdine recently acquired. Woodson launched Negro History Week (the precursor to Black History Month) and was the cofounder of the Association for the Study of Negro Life and History in 1916 and the publisher of this journal. Working as a freelance illustrator, Jones created striking black and white illustrations for The Negro History Bulletin for many years, including those seen throughout these issues. Jones was a prominent 20th-century artist, influenced by the Harlem Renaissance, whose works are part of the permanent collections of art museums worldwide.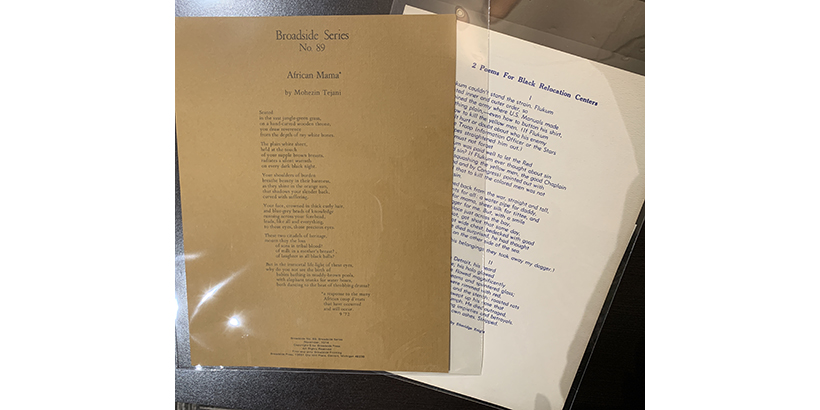 Librarian and poet Dudley Randall (1914-2000) founded The Broadside Press out of his Detroit home in 1965, in part, he said, "to get good black poets published." The press went on to publish the work of about 200 writers, including Gwendolyn Brooks, Melvin B. Tolson, Nikki Giovanni, and Sonia Sanchez. The two broadsides (one-sided prints) in Pepperdine's collection represent Broadsides No. 21, by Mississippi poet Etheridge Knight, and No. 89, by Mohezin (Mo) Tejani.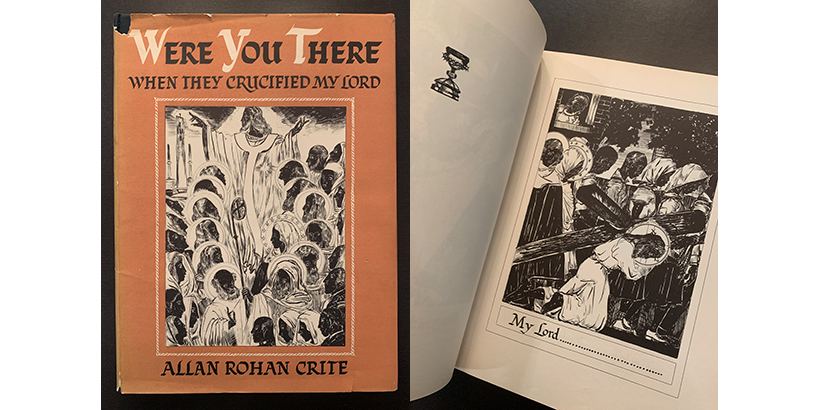 Were You There When They Crucified My Lord, A Negro Spiritual in Illustrations by Allan Rohan Crite is a moving example of a book that celebrates art, music, and faith. Allan Rohan Crite (1910-2007), an African American artist from Boston, created 39 illustrations that correspond with the lyrics of the African American spiritual in this book. These pen and ink images depict Biblical scenes in which all of the figures are represented as Black. Inserted in the Pepperdine copy of this book is a photograph of a mural painted by Crite in St. Augustine's Church in Brooklyn, as well as a letter written by him about the mural. Crite has been notably recognized for his religious art and his paintings of African American life in Boston in the 1930s and 40s. He has called himself an "artist-reporter."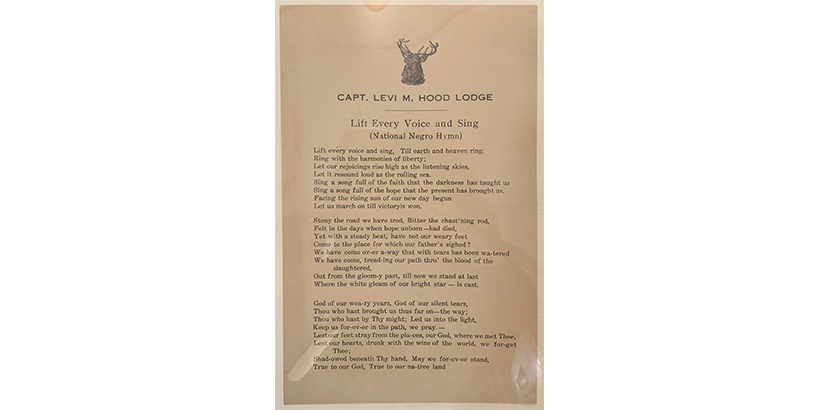 "Lift Every Voice and Sing" was written by James Weldon Johnson (1871-1938) and composed by his brother, John Rosamund Johnson (1873-1974), in 1899-1900. It was first sung by school children in Jacksonville, Florida, where James Weldon Johnson was a school principal. In 1935, Johnson wrote these words: "Shortly afterwards my brother and I moved from Jacksonville to New York, and the song passed out of our minds. But the school children of Jacksonville kept singing it, they went off to other schools and sang it, they became teachers and taught it to other children. Within twenty years it was being sung over the South and in some other parts of the country. Today, the song, popularly known as the Negro National Hymn, is quite generally used. The lines of this song repay me in elation, almost of exquisite anguish, whenever I hear them sung by Negro children."
The continuing legacy of this song is represented by this rare document, a song sheet with the lyrics printed on it, that was used by a Black fraternal group in the 1930s or 40s. The fraternal group, the Improved Benevolent and Protective Order of Elks of the World, has been active for 124 years. The lodge referenced on this document is in West Chester, Pennsylvania.
All of these materials are part of the Special Collections and University Archives at Pepperdine. While the library is closed, they are available for virtual class sessions. Upon our reopening, they will be available for research in our Special Collections Research Room. For more information, please contact Melissa Nykanen.