Jerry Rushford to Present at Harbor 2022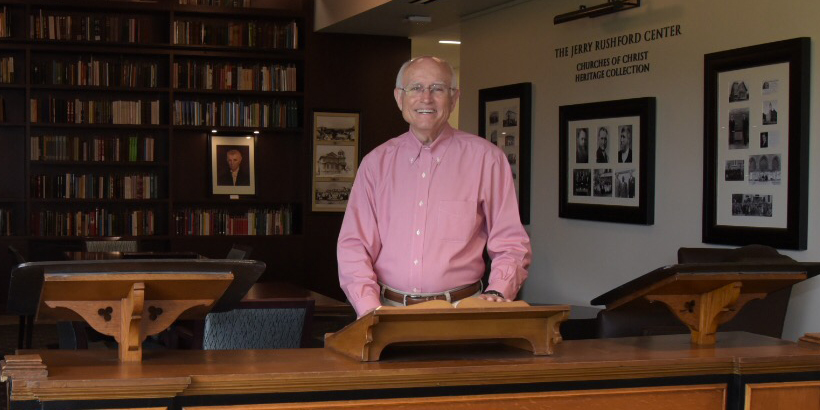 This week, the Office of Church Relations hosts Harbor 2022, the 79th Annual Pepperdine Bible Lectures, where thousands of visitors come from all over the world for a four-day conference on the Word of God. The theme for this year is "No Other Jesus: Cross-Centered Ministry in 2 Corinthians."
Jerry Rushford, who oversees the Churches of Christ Heritage Collection – until August 1, when Lucy Perrin becomes director and archivist for the Rushford Center and the Churches of Christ Heritage Collection and Jerry takes on the role of curator – is an expert on the history of Pepperdine University. He will again be presenting at Harbor, sharing his treasure trove of knowledge during two afternoon sessions in the Payson Library Seminar Room. The first, on Wednesday, May 4, is a lecture on George Pepperdine, founder of the university, and the second, on Thursday, May 5, is a talk on M. Norvel Young, the third president of Pepperdine. Both sessions run from 1:20 – 1:45 PM. Additionally, he will moderate a panel discussion titled "The Church as Storyteller and the Allure of History: Exploring Recent Histories of Churches of Christ and Christian Churches" on May 4, 2 – 4 PM, in the Surfboard Room.
I sat down with Jerry to discuss his involvement with Harbor, the subject of his talks, and his legacy at Pepperdine.
Jeff Bowen: You seem to be a regular at Harbor programs – how many of the 79 annual Pepperdine Bible Lectures have you attended?
Jerry Rushford: In March 1969, I flew from Detroit to L.A. to attend the 26th annual Pepperdine Bible Lectures – my first time in California. This year will be my 46th program. I directed the Pepperdine Bible Lectures for 30 years, from 1983 to 2012.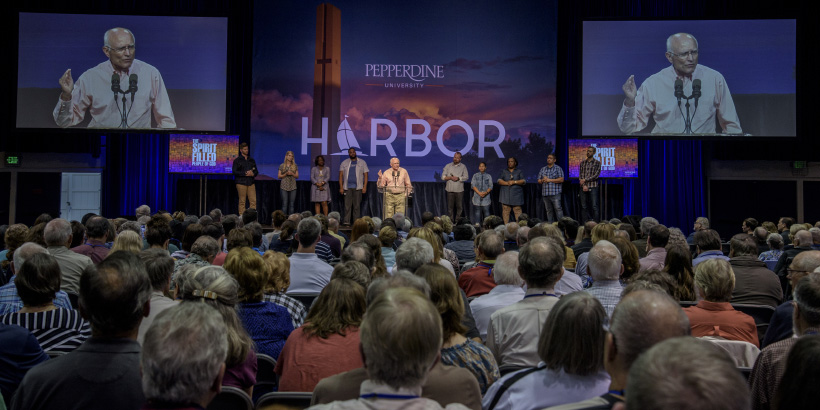 JB: After your visit in 1969, how did you end up teaching at Pepperdine?
JR: In the summer of 1972, I drove across the country to enroll in a doctoral program at UCSB, and I renewed contact with several friends at Pepperdine. Dr. Tony Ash, chairman of the Religion department, invited me to drive to Malibu twice a week during the Fall semester of 1973 to teach a first-year seminar on contemporary Christian autobiographies.
JB: That class sounds interesting! What books did the students read?
JR: Among the books I assigned my students to read and discuss in class were Jesus Rediscovered by Malcolm Muggeridge, Christ the Tiger by Thomas Howard, L'Abri by Edith Schaeffer, My Life with Martin Luther King, Jr., by Coretta Scott King, and Surprised by Joy by C. S. Lewis.
JB: And when did you teach your final class?
JR: Forty years later! During the 2012-2013 academic year, Lori and I served as the faculty family in London for the fourth time. I taught my last class for Pepperdine that winter. Titled "Christian England: From William Shakespeare (1564-1616) to C. S. Lewis (1898-1963)," it was a four-century survey of the Christian faith in Britain from the birth of Shakespeare to the death of Lewis.
JB: You have worn a lot of hats at Pepperdine. What were some of your favorites?
JR: Preaching in Elkins Auditorium and Stauffer Chapel for the University Church of Christ from 1978 through 1981 was very stimulating. Serving in the International Programs in Heidelberg, London, and Lausanne, and then traveling to 24 countries, was life-changing. Editing Crest of a Golden Wave: A 50th Anniversary Pictorial History had unforgiving deadlines, but working with the team of Howard White (who provided historical narrative), Patti Yomantas (who contributed six presidential biographies), and Bill Henegar (the creative designer) was one of the most rewarding experiences in my Pepperdine years.
The sacred privilege of giving the eulogies at the memorial services for two Pepperdine presidents – Howard A. White, Stauffer Chapel, February 7, 1991, and M. Norvel Young, Firestone Fieldhouse, February 20, 1998 – was both humbling and triumphant. They were two of my church elders and two of the finest mentors in my life. The three 'hats' I wore for 30 years – director of church relations, director of the Pepperdine Bible Lectures, and editor of Pacific Church News – were the roles that gave me the greatest opportunities for service.
There was another hat I wore that gave me great personal joy and fulfillment, and that was the role of 'Seaver College Parent' for eight consecutive years. From 1998 through 2006, I watched my daughters Hilary, a theater major, and Ashley, an art major, make their way from high school graduates to university graduates.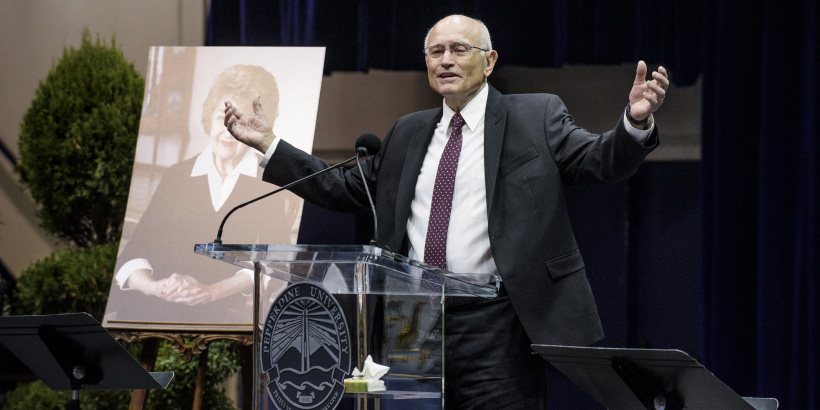 JB: What are some of your most memorable moments from the Pepperdine Bible Lectures?
JR: I could spend hours describing memorable moments from the Bible Lectures that are securely etched in my memory, but I will only mention three.
Pepperdine gave me my first opportunity to be one of the seven keynote lecturers at the 32nd annual Bible Lectures program in April 1975. The theme was "From Death to Life: The New Man," and I was invited to give a talk in Firestone Fieldhouse titled "Blessings of the New Life." Executive Vice President Howard A. White introduced me, and President William S. Banowsky was seated in front of me in the audience. I was 32 years old, and I was beginning to hope that I might have a future at Pepperdine University.
My second memorable moment took place on the opening night of the 42nd annual Bible Lectures on Tuesday evening, April 16, 1985. The theme that year was "Jesus Christ is the Same Yesterday, Today, and Forever." It was also 34-year-old David Davenport's first day in office as the sixth president of Pepperdine University, and several months prior to this event, I had invited him to preach on opening night from Hebrews 1:1-4 using the title "The Finality of Christ." Adding to the uniqueness of the event, there was a brief "Spiritual Inauguration" prior to the lecture in which Howard White read lines from King David, and David Davenport responded with lines from King David's son Solomon. It was a dramatic and transitional moment in Pepperdine's presidential history, and it occurred in the context of Pepperdine's new president preaching on the risen and eternal Christ on the opening night of Bible Lectures and on his first day in office.
The third memorable moment was in 1996, and the theme was "Out of the Whirlwind: Great Themes from the Book of Job." On Thursday evening, April 25, I had asked Mike Cope to preach from the text in Job 13:15, "Though He slay me, yet will I trust Him." That night, in front of a large audience in Firestone Fieldhouse, Mike talked lovingly about Megan, his special needs daughter who died at the age of ten. As he neared the close of his message, Mike reflected on the suffering Megan had endured and about the great loss that he and his wife Diane had experienced and about the times when they had doubted God's goodness. Then Mike closed with a stunning question – something like "What will I say to this God when I meet Him in Heaven." And then there was a long pause, and we all wondered what Mike would say to God. Then he motioned us to stand and sing with him as he began singing the hymn "You Are Beautiful Beyond Description."
In the past decade, I have sometimes been asked what the most memorable moment was in my 30 years of directing the Pepperdine Bible Lectures – and there are many beautiful stories I could share in answering that question – but I usually just say: "It happened in Firestone Fieldhouse, about 8 PM, on Thursday evening, April 25, in the Year of Our Lord 1996."
JB: Such a powerful story! What can Harbor participants expect to see during your three sessions this week?
JR: For my Wednesday session, "Remembering George Pepperdine," I will show a video clip from June 20, 1986, when a group of former faculty members and former students assembled to honor the 100th birthday of George Pepperdine. I will also show a clip from a talk I gave on the university's founder and its presidents, which was filmed on September 23, 2019, during the weeklong events as part of the inauguration of Pepperdine's eighth president, James A. Gash. In the Thursday talk, "Remembering M. Norvel Young," I will show a video-clip from the funeral of M. Norvel Young in Firestone Fieldhouse on February 20, 1998.
For the Thursday panel discussion in the Surfboard Room, I have chosen six outstanding church historians from four universities who will have a conversation on the surprisingly large number of histories of Churches of Christ published in the last 10 to 15 years. The last part of the session will look to the future and discuss what categories have been neglected in our storytelling and offer suggestions on what books should be written in the next decade.
JB: There's certainly plenty to be learned from your sessions at Harbor. Thank you for taking the time to speak with me. I know what you've shared is just a sliver of your long career at Pepperdine, and it's always a delight to learn more about your experiences.
JR: You're welcome! I look forward to seeing everyone at Harbor.