Makerspace Specialist Rankin Bullard Enjoys Helping Students Bring Their Ideas to Life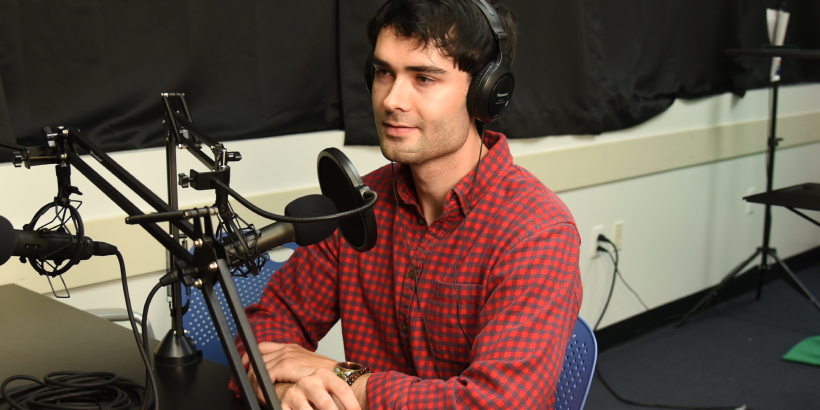 This past spring, Pepperdine Libraries was thrilled to open the new iLab at the Drescher Graduate Campus Library. Makerspace specialist Rankin Bullard was instrumental in making this happen. Initially hired in February 2022 to assist Lauren Haberstock with running the Genesis Lab, he also worked alongside Drescher Graduate Campus librarian Erik Helton to design the new space. Rankin came to Pepperdine from Abilene Christian University, where he earned a BFA in Theatre & Film.
I recently interviewed Rankin in the iLab about his professional work and his passion projects.
Jeff Bowen: This is quite a set up, especially the one button studio. I understand you're no stranger to video cameras?
Rankin Bullard: I've had a passion for filmmaking since I was a teenager. To date, I have written/directed/produced three independent, feature-length films. My most recent film, Dangerous Ones, has been selected to 10 film festivals and won three awards so far.
JB: Your background definitely made you the right person for the position. What can students do in this studio?
RB: Students and faculty have the opportunity to use the iLab studio to easily record videos for presentations, lectures, speeches, and more with the one button studio and podcasts, interviews, and various voice recordings with the podcast setup. The latter was recently used by John D. Barton, professor of teaching of religion and director of the Center for Faith and Learning, to interview Rainn Wilson, the actor best known for his portrayal of Dwight Shrute in The Office.
JB: Other than the studio, how is the iLab different from the Genesis Lab? And what are the similarities?
RB: Whereas the Genesis Lab has a focus on PC gaming and crafting with tools such as the Cricut cutter and the heat press, the iLab is concentrated more on data visualization. It uses softwares such as Row64 and Adobe Creative Cloud as its primary resources for creating and exploring. However, both spaces include VR headsets for virtual reality experiences and Dremel Digilabs for 3D printing.
JB: What types of classes have come into the iLab?
RB: We've had business classes come in to utilize Row64 and VR for data visualization and an entrepreneurship class toured the iLab and the studio to brainstorm ways they can use its resources for their projects.
JB: What's your favorite part of the job? Any particular memorable moments that stand out in the 1+ year you've been here?
RB: I love helping students bring their ideas to life through the Genesis Lab and the iLab and seeing them get excited. These are great spaces for people to collaborate and feel creative, and I enjoy encouraging that and making everyone feel welcome.
JB: And I'm sure they appreciate all your help and encouragement. Thanks for taking the time to chat with me today. Before we part ways, one final question: what should someone do if they want to come to one of the labs?
RB: You're welcome! If a faculty member wants to bring a class, email us to schedule a visit. Anyone can drop by either labs when we're open, but if you need to use the iLab studio to record a video or audio project, you're advised to make a reservation.