How To Access Ebooks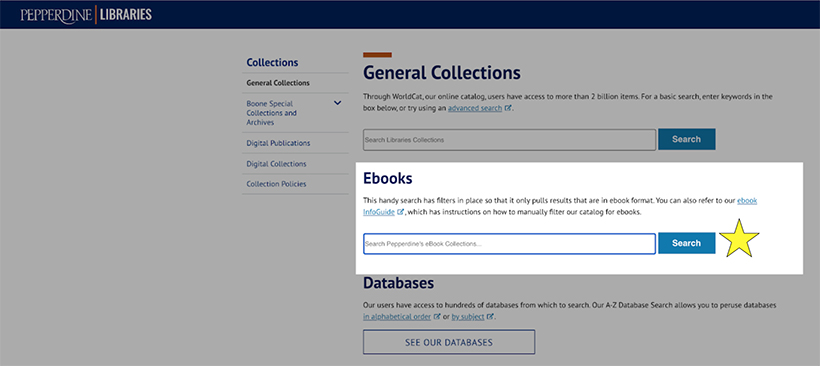 Pepperdine Libraries provides access to over a half-million ebooks to our students, faculty, and staff. We recommend using our new Pepperdine ebooks search box to locate titles of interest. From the library homepage, you can find it by going directly to the General Collections page from the top menu bar, or you can access it by clicking the blue Collections icon on the homepage and then either clicking the General Collections link in the side menu or by clicking "one-step search for ebooks" in the body text under the General Collections section.
Tips for Searching Ebooks
Watch our Quick Tips video to learn how you can access Pepperdine's ebooks and tips for searching our catalog.
More Information on Ebooks at Pepperdine
Our ebooks come from a variety of different vendors. We typically license either one user, three users, or unlimited user copies depending on anticipated needs and licensing arrangements. This could affect availability of titles.
We are supporting remote teaching and online learning with our ebooks access. In recent months, our librarians have increased our holdings and worked with faculty to purchase electronic copies of books used in classes. Not all publishers sell to libraries, which impacts our ability to provide electronic access to specific textbooks.
If you have questions about using our ebooks or want more information on the different ebook platforms, visit our Ebooks Guide.