Special Collections Staff Favorites: Psalter Marginalia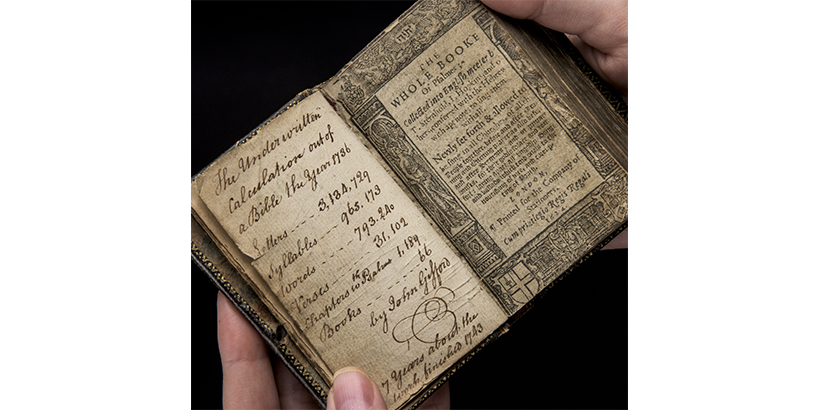 How are you filling your time at home these days? Many of us are downloading coloring pages, binging TV shows, doing puzzles, and picking up new crafts and other activities that can be done in our own homes.
Similarly, in 1736, a man named John Gifford embarked on an at-home project that ended up taking seven years. He recorded this project in a tiny 1624 Psalter now held in Pepperdine's Special Collections.
Yes, you read that right. For seven years, John analyzed the text of a Bible and counted the number of books, chapters, verses, words, syllables, and even letters, recording all of this information on the flyleaf of this Psalter.
Why did John do this, I always wonder? Was he bored? Did he find it meditative? Was he in quarantine?!
I love this book. It's tiny and cute, and it captures a quirky and somewhat perplexing hobby. But beyond these details, this book has interesting features that make it useful for research.
The book is known as a "Sternhold and Hopkins," a hugely popular English metrical psalter that was published in many editions beginning in 1549. Metrical psalters consist of the Psalms translated into meter and set to music to be sung in church services. This one is tiny in large part because it was intended to be highly portable.
When the Puritans came to what is now the United States of America, the first book that was printed in this country was the Bay Psalm Book in 1640, another metrical psalter intended to replace usage of Sternhold and Hopkins. Students at Pepperdine studying early American literature are able to use our two copies of Sternhold and Hopkins to compare to a digital text of the Bay Psalm Book (print copies are exceedingly rare) and analyze the interaction of religion and literature at that time.
In another academic program at Pepperdine, our Digital Humanities minor, students learn to analyze text using digital tools like WordSmith. In fact, they can do just what John did, but it now can be done with the touch of a button, saving us seven years of work!
Find the fuller description of this book at this catalog record. A digital version of a similar edition can be seen here. For more information about Special Collections, please see our website.