Genesis Lab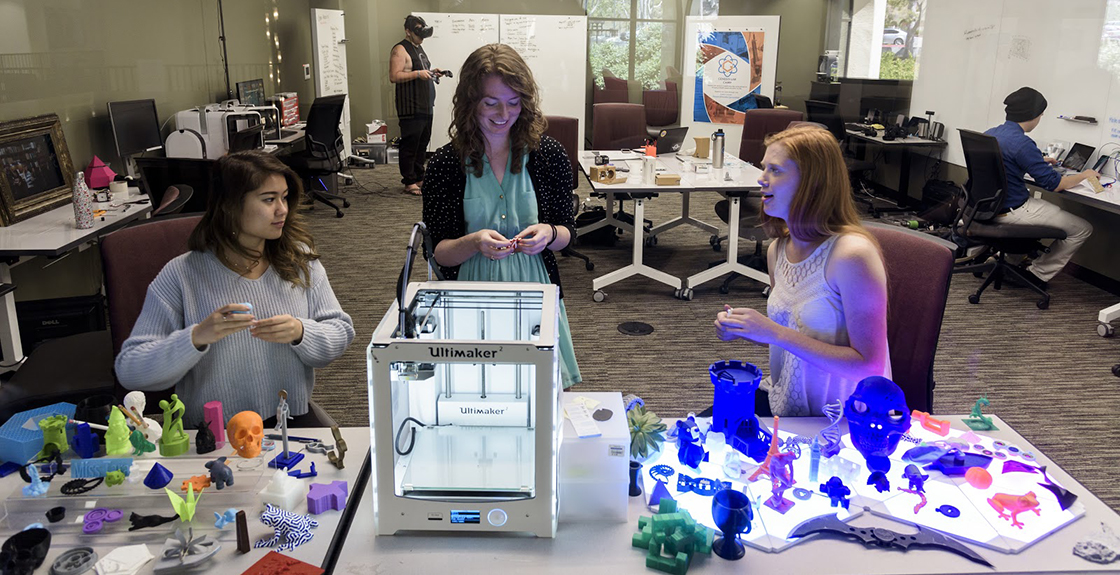 As the University forges ahead with the spring semester, Pepperdine Libraries is firmly committed to serving the needs of our community, offering virtual and in-person support services for faculty and resources for students. Pepperdine's COVID-19 Planning and Preparedness outlines who may enter the campus, including the libraries. Masks are required at all times (except when actively drinking), and eating is not permitted in any of the libraries.
The Genesis Lab is Pepperdine's makerspace and home for emerging technologies. An array of high-tech and low-tech resources are available, inviting creative minds to utilize technology in this innovative space.
Who we serve
We are open to students, faculty, staff, and alumni from all Pepperdine schools. There are no fees or training requirements. Our resources can be accessed for academic projects, personal projects, or general exploration. We encourage anyone who has a project in mind or who is interested in gaining hands-on experience with our technology to drop by or email a Genesis Lab staff member.


Regular Hours of Operation
(Please note: when Payson Library is closed, Genesis Lab is also closed).
Monday
Tuesday
Wednesday
Thursday
Friday
Saturday
Sunday
11 AM - 4 PM
11 AM - 4 PM
11 AM - 4 PM
11 AM - 4 PM
11 AM - 4 PM
CLOSED
CLOSED
Available Resources
Genesis Lab Technology Use Policy
Our technology may only be used for lawful purposes. It may not be used to create material that is prohibited by local, state or federal law.
Our technology may not be used to create materials that are unsafe, harmful, dangerous, or pose an immediate threat to the safety and well-being of others. Our technology is available free of charge to the Pepperdine community. Personal use is welcome (and encouraged!), but priority will be given to academic projects.


3D Printers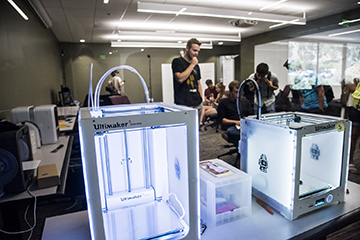 The Genesis Lab can complete 3D prints upon request. Prints for academic projects or research will be given priority. Prints can take anywhere from 3 days to 2 weeks depending on the volume of requests. For assistance prepping a 3D model, please visit the Genesis Lab and talk to a student worker. If your model is print-ready, email us to request using a 3D printer.
Our Ultimaker 3 Extended has the largest print bed we have available with a build volume of 8.5 x 8.5 x 11.8 inches. We supply either ABS or PLA filament in a variety of colors. Full Ultimaker 3 Extended tech specs here.
Our Dremel 3D45 has a build volume of 10 x 6 x 6.7 inches. We supply ABS filament in black and white, PLA filament in a variety of colors, or Nylon filament in black. More Dremel 3D45 tech specs available here.
Virtual Reality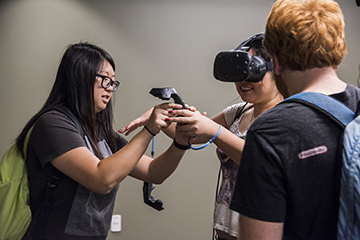 Virtual Reality headsets are available for use in the Genesis Lab. Headsets may be used for personal and academic purposes. The headsets are equipped with a variety of apps for content creation, gaming, and 360 video streaming.
Oculus Quest is an all-in-one gaming headset, meaning it does not need a PC to run. It comes with two handheld controllers and offers an untethered 360 experience.
Oculus Rift, which is powered by a computer, is designed for complete immersion, offering a complete 360 experience.
HTC Vive VR goggles work with SteamVR and come with two hand-held controllers and two base stations to support the immersive experience.
Google Cardboard allows users to experience immersive VR using a combination of a cardboard viewer, an iPhone, and the Cardboard app. Note that Google Cardboards are available for check out.
Cricut Vinyl Cutter and Heat Press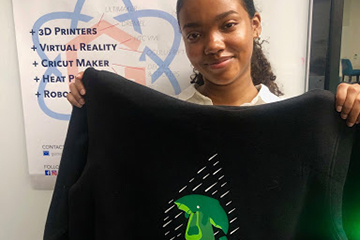 Our Cricut Vinyl cutter draws on cardstock or cuts patterns in cardstock, vinyl, or heat transfer vinyl. Use the machine to create cards, stickers, and custom t-shirts. All you need to get started is a digital image. Please allow approximately half an hour to complete each project.
The Cricut is capable of drawing or cutting single color images with no gradients. The Genesis Lab supplies cardstock and vinyl in a variety of colors, and heat transfer vinyl in black and white. If you have another color in mind for a personal project, please supply your own vinyl. For academic projects, speak with a Genesis Lab staff member about the possibility of the Lab purchasing supplies outside of those listed above.
In combination with the Cricut Vinyl Cutter, use the heat press to customize t-shirts, bags, or any other cloth item. Designs must be one color with no gradients. Please supply your own t-shirt (or other cloth item) and allow approximately half an hour to complete each item.
3D Modeling
Alienware Aurora R8 computers equipped with a variety of 3D modeling software programs are available. Programs include Meshmixer, Fusion360, and Blender. Several VR apps support in-headset modeling. Genesis Lab staff are available for consultations and tutorials for beginner and experienced 3D modelers.


Unity
Alienware Aurora R8 computers are equipped with Unity, a game development software. This software is ideal for creating custom VR environments.


360 Cameras
The Genesis Lab has 360 cameras available for checkout. These cameras link to a cell phone and can be used to capture 360 images or short videos. Additionally, Genesis Lab staff are available for tutorials and support in 360 video editing using computers in the ACE lab.
Ricoh Theta SC is an introductory 360 camera capable of still images and video. Still images can be captured at up to 5376×2688 resolution, and video up to 1920×1080/29.97fps/16Mbps at 5 minutes maximum length.
Insta360 Nano is an introductory 360 camera capable of still images, video, and live streaming. Still images can be captured at up to 6272x3136 resolution, and videos up to 3840x1920/30fps. Only compatible with iPhone 6 and later.


Esports
The Genesis Lab is home to Pepperdine's Esports program. This includes competitive and recreational gaming. Our Alienware Aurora R8 computers are available for recreational gaming during open hours.
Available titles include Overwatch, Super Smash Brothers, and League of Legends. All titles must be approved by the Genesis Lab director. No games with realistic violence or otherwise inappropriate content will be allowed.
Please note that academic users and Genesis Lab staff have first priority on all devices. Recreational users must cede any device at a staff members' request.


Consultations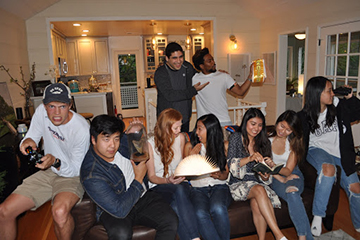 Have an idea for a project that applies emerging technology? Need some help getting started or advancing a skill? The Genesis Lab team is here to help! Staff members are available for drop-in consultations during open hours, or you can always email us with questions or to schedule a meeting.